Treasure on the Mountain Raffle

WV's Greatest Raffle on WV's Greatest Mountain
Incredible Food, Drinks, Entertainment and Prizes
Our wildly popular raffle party is held on the top of Snowshoe Mountain, where you will have the opportunity to experience incredible food and drinks from many local, non-profit organizations, awesome entertainment, and the company of hundreds of excited patrons in a festive atmosphere. Our MC keeps this 18 and up party going with regular and side prize drawings every five minutes throughout the entire day. We invite you to experience euphoria with us on August 5, 2023. There is truly no other experience quite like the Treasure on the Mountain Raffle. Don't miss out on the chance to have one of the best times of your life!
Live Notifications through Snowshoe Foundation's Custom App
It is mind-blowing! When you purchase a raffle ticket for the Treasure on the Mountain Raffle, you gain entry into the greatest raffle party in West Virginia. We have taken the raffle to the next level by adding an app to the fun. Now through our Snowshoe Foundation's custom app, you can get live updates right to your phone during the event on or off the mountain. We know you want to be here on West Virginia's most wonderful mountain with us (and we hope you can join us), but even if you cannot make it, you can still win exciting, high-end prizes!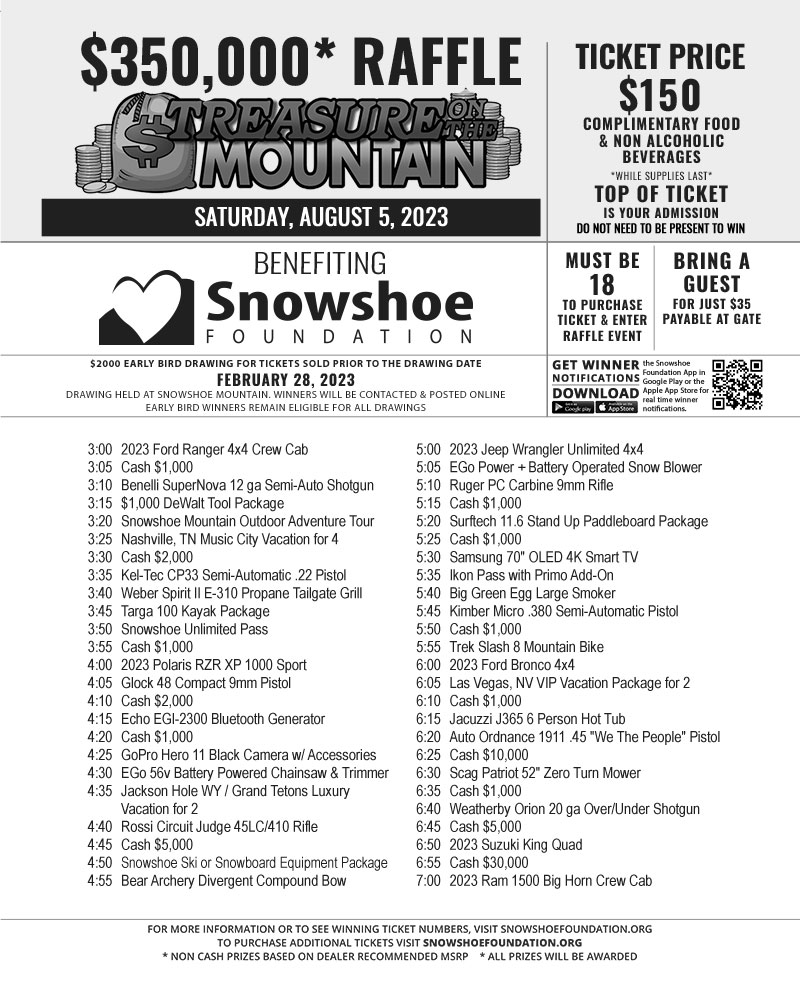 Buy Your 2023 Treasure on the
Mountain Raffle Ticket
Purchase your raffle ticket(s) by clicking here. You can also visit several local businesses that sell the tickets. See map of our ticket seller locations below. Hurry, get your tickets today! By giving a chance to those in need, you also get a chance to win many valuable prizes.
Early Bird Winners Announced
February 28th, 2023
Buy your tickets early for a chance to win $2,000! To be eligible for the early bird drawing tickets must be purchased by 9:00am the day of the drawing. The drawing is held at Snowshoe Mountain. Winners will be contacted & posted online. Early Bird winners remain eligible for all drawings.
2023 Treasure on the Mountain Raffle Prizes
Here are just a few of the raffle prizes that will be given away at Treasure on the Mountain 2023:
2023 Ford Ranger 4×4 Crew Cab
Nashville, TN Music City Vacation for 4
2023 Polaris RZR XP 1000 Sport
Jackson Hole WY / Grand Tetons Luxury Vacation for 2
2023 Jeep Wrangler Unlimited 4×4
2023 Ford Bronco 4×4
Las Vegas, NV VIP Vacation Package for 2
Cash $10,000
2023 Suzuki King Quad
Cash $30,000
2023 Ram 1500 Big Horn Crew Cab
Win Raffle Prizes All Over the Country!
The crowd on Snowshoe Mountain grows into the thousands as excited folks try their luck at winning some really great prizes. Winners from West Virginia, as well as across the country, including Colorado, North Carolina, Virginia, and Missouri, claimed over $260,000 in prizes last year. Raffle winners are announced every five minutes for four hours.
Walking Tacos, Pepperoni Rolls, Corndogs, Popcorn, & Pork Loin Sandwiches
Great food will be available all afternoon, with delicious favorites provided by local charitable organizations. Enjoy a Smörgåsbord of just about every type of food you can imagine! Try a walking taco from the Webster Springs Volunteer Fire Department, pork loin sandwiches from Tygarts Valley Lions Club, chicken from the Elkins Band Auxiliary, pepperoni rolls from Tygarts Valley High School, corndogs from Elkins Kiwanis, pork rinds from Durbin Lions Club, and popcorn from Marlinton Women's club. Elkins Middle School will be serving up ice cold Zul's lemonade, also. There is so much more.
Gun Tips, Side Raffles, & Instant Winners
Guns for the raffle are provided by Phillips and Sons Pawn Shop. Interested supporters, present or not, are invited to experience the thrill of the continual drawings by receiving notifications from the Raffle App.
Treasure on the Mountain Sponsors
Treasure on the Mountain is the primary fundraiser of the Snowshoe Foundation.. We are grateful to the following additional sponsors and generous donors. Without their support, we would not be able to hold the biggest and best raffle party! On behalf of the Snowshoe Foundation, we extend a big THANK YOU to our valued supporters: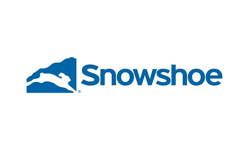 Snowshoe Mountain Resort is a huge contributor to the success of the Snowshoe Foundation. We are grateful for their support that allows us to help our community!
Volunteer or Donate to Help Make Treasure on the Mountain a Success
We need volunteers and sponsors every year to make our raffle a smashing success and continue to be one of the biggest and best raffle parties around. We value our major donors, as well as donations in any amount, in-kind donations, and services that we receive from the many businesses and individuals whose commitment helps us tremendously. No donation of time, money, or resources is too small! From gift baskets to gift cards, beach chairs, camping equipment, wine, and books, to vacations, vehicles, and cash, every generous donation helps.
If you are interested in donating or volunteering at Treasure on the Mountain, please contact us at: (304) 572-8500.
Tickets for Treasure on the Mountain are available at the following locations:
Marlinton Rotary
Cowen Public Library
Fayette Institute of Tech School of Practical Nursing
Elkins Fire Department
Elkins Auto
Gino's Pizza in Elkins
Elkins Babe Ruth League
Tygarts Valley High School
Linwood Community Library
Catholic Charities of Webster County
Webster County FRN
Diana Eagles Community Center
Pocahontas County FRN
Elkins HS Track Team
Camp Caesar
Elkins Middle School
Trojan Athletics Association
Davis & Elkins Athletics
WV Autism Supportive Center
Mountain State Forest Festival
Webster Springs Band (Highlanders of Tomorrow)
Randolph County 4-H Teen Leaders
Catholic Charities WV Weston Region
Little Levels Heritage Fair, Inc.
Pocahontas County Opera House
Randolph County Child Advocacy Center
Durbin Lions Club
Rotary Club of Elkins
Webster County Community Fund
Marlinton Lions Club
Foundation Sub Committee
Mountain State Street Machines (formerly Old Town Car Club)
Marlinton Fire Department
Elkins Motorsport, Inc
Elkins Depot Welcome Center
Shavers Fork Fire & Rescue
Tygarts Valley "Dailey" Fire Department
Relay for Life – Upshur County
Wirt County Middle School
WV Radio Corp, WDNE/WELK
InterMountain Newspaper
Linwood Daycare
Pocahontas Memorial Hospital Auxiliary
Monroe Day Care Center
Greenbrier County Committee on Aging
Philippi Fire Department
Banks District Volunteer Fire Department
Cowen Little League
Tygarts Valley M/HS Athletics
Webster Springs Volunteer Fire Department
Webster Springs Elementary School – PE
PCHS Golf Team
Webster Addison Public Library
Tygart Valley Lions Club
PCHS Girls Basketball
The Committee on Aging for Randolph Cty
Randolph County Humane Society
Tygarts Valley High School – Baseball
Valley Head Public Library
Pocahontas County Chamber of Commerce
Glade District Improvement Committee
Harman School Alumni Building Fund
Challenged Athletes of WV
Pocahontas County Senior Citizens Center
St. Mary's Golf Team
Friends of Cass
Elkins Baseball Association
Webster Memorial Hospital
Knights of Pythias Glade Lodge 205
Treasure on the Mountain Winners
Treasure on the Mountain Winners will be announced on this website, on our Facebook Page, and via the live app. With the Treasure on the Mountain live app, people across the country who cannot attend are able to participate and receive notification of prizes won. Download the app regardless of attendance to receive prize notifications.