ELKINS — Local West Virginia State Police officers are now equipped with high-velocity bulletproof vests after an effort by the Snowshoe Foundation and local businesses.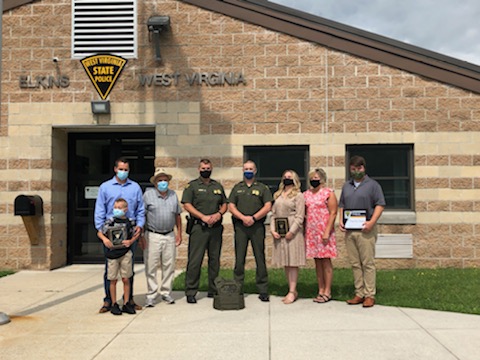 On Wednesday at the Elkins Detachment of the West Virginia State Police, Capt. J.B. Utt said troopers in 12 counties including Randolph County now have the vests. He said the vests are being issued to officers ranked sergeant and below first because they respond to the most calls.
"We wanted the guys going on scene to have them first," Utt said. "They were very appreciative. We appreciate all the community support."
Utt presented plaques of appreciation to Snowshoe Foundation Executive Director Kristen Doss, Elkins Wal-Mart General Manager Rudy Anthony and MegaCorp account executive CJ Johnson.
During an event announcing the vests on Wednesday, local resident Mike Ross made a $5,000 donation to help equip more troopers with the vests. Utt said each vest costs around $347 and there are 450 troopers statewide.
Local resident Denise Campbell said that the effort to purchase the vests began last year when she was approached by a local resident, who wished to remain anonymous, after a trooper was shot in Pocahontas County in August 2019. Campbell said the Snowshoe Foundation agreed to serve as the fiscal sponsor to secure grant funds to purchase the vests.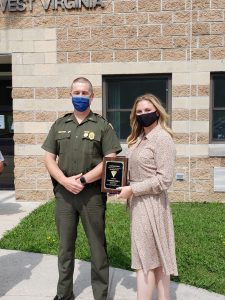 Trooper First Class Josh M. Tallman, from the Elkins Detachment, was shot on Aug. 5, 2019. On that date, Pocahontas County Sheriff J.P. Barlow was investigating a one-vehicle wreck at about 6 p.m. when he was shot at by a man with a rifle.
Police officers from other counties responded to the scene and searched "a wooded area" for the suspect. Tallman found the suspect in the woods and was shot in the abdomen. Tallman returned fire and shot and killed the suspect. Tallman underwent surgery at Ruby Memorial Hospital in Morgantown because of the wound.
"We were all devastated," Campbell said.
"If he would have had this vest, he would not have been as injured."
Doss said the Snowshoe Foundation was on board with the project immediately.
"As soon as we were approached, I sent an emergency email to our board and asked them if they were interested and all of them responded yes," Doss said. "The shooting incident was a mile from my home. It makes me feel better knowing they are better-protected."
After the incident, the Snowshoe Foundation agreed to serve as the fiscal sponsor to secure grant funding toward the purchase of new vests. Thus far, the Foundation has now secured enough grant funding and donations for the purchase of 140 high velocity vests. To supply the entire state an additional 260 will need to be secured.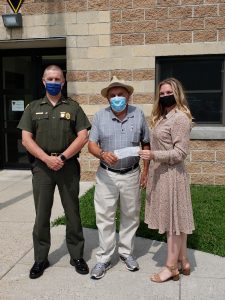 Anthony said he was proud to be able to provide the $20,000 grant from Wal-Mart for the vests.
"This is a demonstration of our support, we are a store in the community," he said. "I am very proud to involved in this."
Grantors and donors include Wal-Mart, Megacorp, Your Community Foundation of North Central West Virginia, Inc, and many others. To donate, please visit www.snowshoefoundation.org or call 304-572-4710.
"Our goal is to cover Grant and Hardy counties next," Campbell said. "They are pretty far out and don't have much back up."