ELKINS — Officials broke ground Friday morning on a project that officials say will benefit the community for years to come.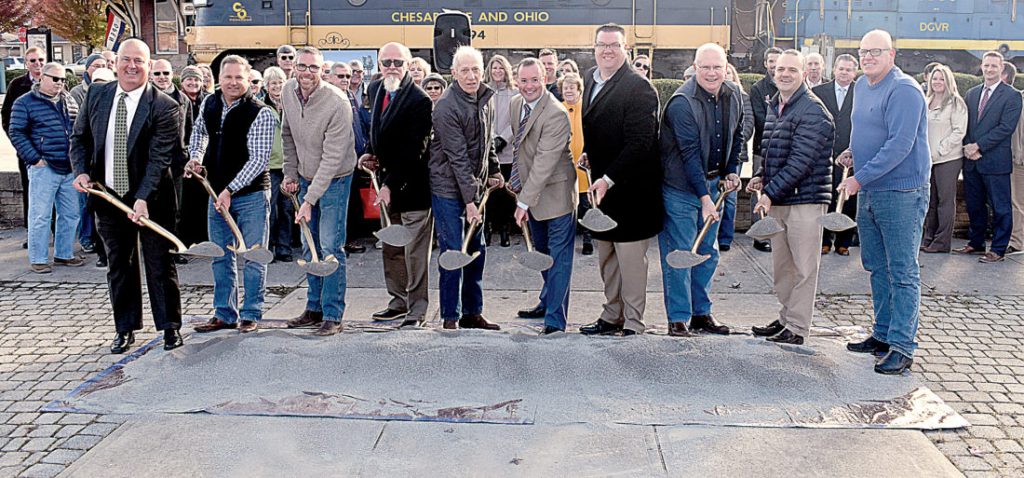 The Inter-Mountain photos by Tim MacVean A groundbreaking ceremony took place Friday morning for the Elkins Town Square Amphitheater project. From left are Voras Haynes, Snowshoe Foundation vice president of the board of directors; John Carte, Snowshoe Foundation board member; Brad Walters, Elkins Rotary Club president; Dave Parker, Fifth Ward Elkins councilman; Carman Metheny, Third Ward Elkins councilman; Hoy Ferguson, town square amphitheater project chairman; Robbie Morris, Randolph County Development Authority executive director; Mike Taylor, Randolph County Commission president; Mark Scott, Randolph commissioner; and Van Broughton, Elkins mayor.
After only a year of fundraising efforts, a $139,000 project will come to life as ground was broken for an amphitheater to be built in Elkins Town Square.
The Rotary Club of Elkins, through amphitheater project chairman and Rotary Club member Hoy Ferguson, has worked to raise funds for the construction of the amphitheater that will be used for live entertainment and other activities downtown.
"Today, we celebrate the hard work of the Rotary Club of Elkins and our community. This project demonstrates what occurs when businesses, citizens, governmental agencies and non-profits work together for a common objective," Ferguson said during Friday's groundbreaking ceremony. "The Rotary amphitheater in Elkins Town Square will become a centerpiece for gatherings for Elkins and greater Randolph County."
Ferguson shared his appreciation for the nearly 100 businesses, organizations, agencies and individuals who contributed to the project.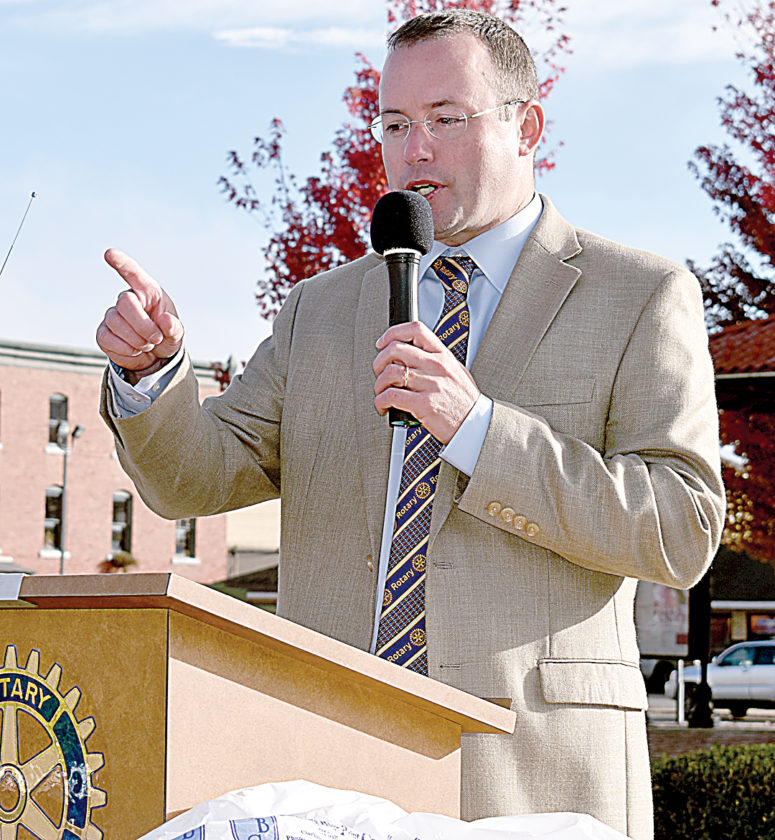 Hoy Ferguson, Elkins Rotarian and town square amphitheater project chairman, speaks during a groundbreaking ceremony Friday morning for the project.
"I would like to thank all of our club members and donors, whether it be funds, services or time, who helped make this concept become a reality," Ferguson said. "I say to you all, with the greatest sincerity, thank you."
Robbie Morris, Randolph County Development Authority executive director, said he believes this project will be a "game changer" for downtown Elkins.
"On behalf of the Randolph County Development Authority and its board of directors, I would like to thank the Rotary Club of Elkins to allow us to participate in this project. When Elkins Town Square was developed, almost a decade ago, the thought was to have many fairs, festivals and economic activity to provide for businesses and the community alike," Morris said. "This project is going to enhance, greatly, the use, enjoyment and aesthetics of Town Square."
Morris also thanked all the donors, noting this is one of the largest projects in recent history.
"This has to be one of the largest community development projects like this, definitely in Elkins and in the county, and all of the support and how quickly it came together. Hoy didn't tell me he had to twist a lot of arms, it was 'Hey, here's the project, do you want to contribute?'" Morris said. "A lot of the donations were higher than what most businesses' and individuals' usual giving limits are and I think that speaks to how excited everyone is for this project, what it's going to mean for the community, and the Randolph County Development Authority is very pleased and proud to be a part of this. We hope this brings the results that we all are sure that it will."
The Snowshoe Foundation, which contributed $25,000 to the project, was represented by Voras Haynes, vice president of the board of directors, who said he believes this project will be a great addition to the Elkins community.
"I want to talk about the vision the rail yard itself has. Jim Schoonover and Denver Barnett, who recently passed, should be commended for everything that you see here and what is going on here in this rail yard," Haynes said. "I really appreciate the vision that Hoy had in order to put this project together. The Snowshoe Foundation was put together to help with projects like this and I think this is a great use of funds. This is going to be a great addition to our community."
Following the groundbreaking ceremony, Ferguson elaborated on the project, saying the project was able to be completed quicker than expected due to overwhelming community support.
"The process started a little over a year ago. Our local Rotary Club was looking for a project to do in our community and we decided on building the amphitheater here in our town square," Ferguson said. "The public reaction to the project has been outstanding. Within a short period of time — within 12 months — we were able to raise all the funds necessary to start construction here within the next two weeks."
He added he believes the new amphitheater will provide a gathering place for a multitude of downtown Elkins events.
"It brings a facility for people to come to for entertainment purposes, for fairs, for music and events, the farmer's market that is located here in Town Square," Ferguson said. "It's a gathering place for all of the community."
Contributors to the project include the Rotary Club of Elkins; Snowshoe Foundation; Randolph County Commission; Randolph County Development Authority; First Energy Foundation; Davis Trust Company; Citizens Bank of West Virginia; Mountain Valley Bank; Grant County Bank; Elkins-Randolph County Chamber of Commerce; Mountain State Forest Festival; City of Elkins; Davis Medical Center; Joyce Allen, in honor of Chris and Lisa Wood; Jim and Pat Schoonover; Wayne and Sue Sheets and Bob and Dottie Wamsley; Joyce Allen; Atlantic Coast Pipeline; Rotary District 7530; Jim and Karen Bialek, in memory of J.B. Bialek; Elkins Rehabilitation and Care Center; Mike Ross, Inc.; Elkins Depot Welcome Center; Jim and Merllene Yorkey; Carte-Hall and Associates; Hoy and Teresa Ferguson; Jeff and Deborah Welshonce; Mountaineer Insurance; James and Patricia Schoonover; James and Helen Tanner; Ralph Wilmoth; Bob and Dottie Wamsley; Sue Pifer; Seneca Realty; Tygart Valley Orthopedics; Steve and Jean Jory; Kenny and Breanna George; Busch, Zurbuch and Thompson; Mike Ellis; Steryl and Shirley Dean; JW and Amanda Jones; JF Allen; Christy Tribble; Woodford Oil; Lowell T. Williams; Durbin & Greenbrier Railroad; Dick and Rose Harvey; Bob and Karen Wilmoth; Anne and Paul Beardslee; Jerry and Bobbi Trimboli; Lanny and Molly Propst, in memory of Tom Karlen from Patty Karlen; Mike and Donna Bell; the Rev. Basil and Janis Hensley; Helianthus, LLC; Bryan and Tammie Rizzio; Battlefield Insurance Group; Brad and Melissa Walters; Thomas Mann; Carl Nichols; Ron LaNeve; Grace Roy; Elkins-Randolph County YMCA; Sid and Sue Gillispie; Davis Electrical Service; Hugh and Kathy Hitchcock, in memory of Linda Gardner; Donald and Joyce Hansen; Elkins Main Street; and Workforce Opportunities in Randolph County Foundation.