ELKINS — Thanks to support from community agencies, students at North Elementary School have two special "buddy benches" where they can sit if they are feeling left out or need a friend.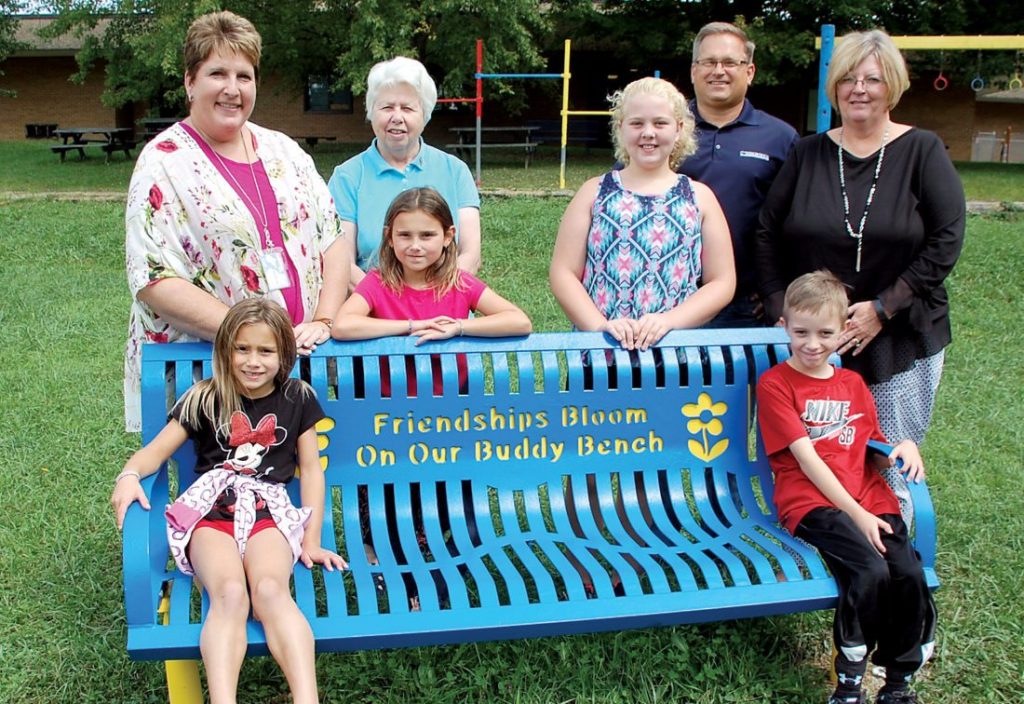 The Inter-Mountain photo by Beth Henry-Vance North Elementary School now has two 'buddy benches' installed at its playground. Shown seated, from left, are first-grader Kenadi Carte and third-grader Logan Riffle. In back, from left, are teacher Susan Isner, Pat Schoonover from Elkins Rotary Club, fourth-graders Raighan Carte and Braelyn Bonnell, John Carte from the Snowshoe Foundation Board of Directors and Principal Cindy Bodkin.
The idea has gained popularity at schools throughout the country, said North Elementary Principal Cindy Bodkin, and she is pleased to have them available for local students.
The bright blue benches are set up close to the school's playground equipment, and they have yellow letters that say "Friendships bloom on our buddy bench." Bodkin said the benches cost approximately $700 each, and funding came from grants from the Snowshoe Foundation and the Elkins Rotary Club, as well as the school's Parent Teacher Organization.
Fourth-grade teacher Susan Isner said all students were able to watch a video clip that described "buddy benches," and she thinks that helped them understand they can sit there if they are feeling lonely or upset.
"We want them to have compassion and to help others," Isner said Tuesday afternoon. "It's a win-win for whoever's on the bench and whoever helps them. … It is a visual reminder that some kids just need a buddy; they need a friend."
She said some students seemed to really like the fact that it can help them if they need a friend, and it's also a way they can help reach out to others who are feeling lonely.
"It's easy to understand on an elementary level, and it's a life lesson," she added.
Fourth-grader Braelyn Bonnell said she thinks it's a nice idea.
"I like it," she said. "It's good, so that people can come and join them, and they can play together."